A CARGO VESSEL 100% POWERED BY WIND WITHOUT COMPROMISE
🌍 MASSIVE DECARBONISATION
The VELA trimaran is designed for 100% sail propulsion, in both light and heavy weather. We are therefore aiming for a decarbonation rate of around 99% for propulsion.
⚡ REDUCED LEADTIME AND HIGH FREQUENCY
The speed of our ships, our weather routing solutions and our unloading / loading process allow us to be faster than conventional ships from harbourg to harbourg on the France to New York seaway (between 10 to 15 days).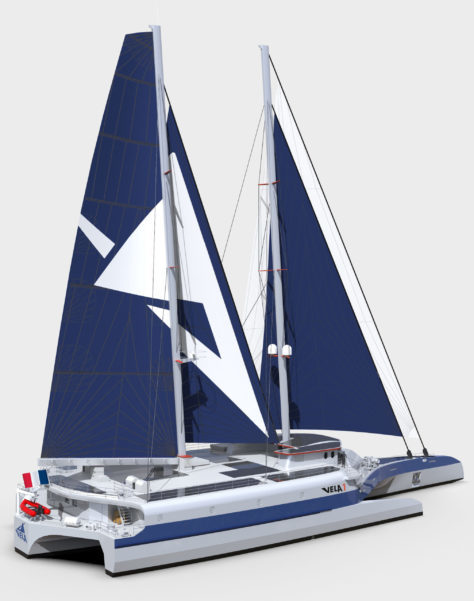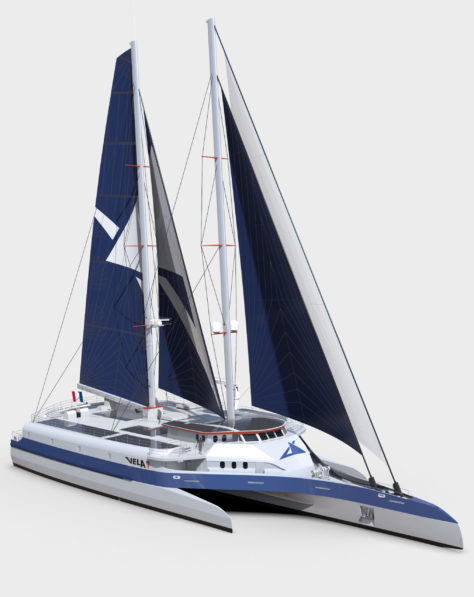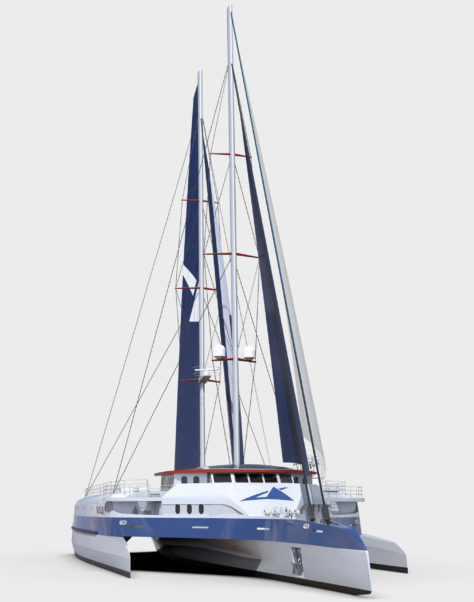 🎯 AGILITY
Our ships have been designed to access strategically-situated, smaller harbors and therefore reduce costs and CO2 emissions of first/last mile operations in supply chains.
We use pallets (US and EU standards) to transport the goods alone, without excess weight nor additional costs.
👌 MANEUVERABILITY AND SAFETY
The inherent stability of the trimaran and the width of the upper deck facilitate maneuvers for the sailors.
In addition, our ship, under the French flag, complies with the most demanding standards of the merchant navy (notably SOLAS).
📦 VOLUME AND RELIABILITY
With a cargo equivalent to 51 containers per trip and the establishment of a regular line, we can offer our shippers a real alternative to their carbon transport solution.
The width of the trimaran allows us to store the majority of the cargo on the upper deck of the vessel. This simplifies and streamlines loading and unloading operations.
The goods are stored safely in secure compartments, monitored in temperature and humidity, ventilated and filmed.